Flight TR2009-09
Continue of the previous flight (TR9013-09)...
A little fewer information on this flight regarding the available documents, but there still some interesting files available like first of all our flightplan, a plan of or STOPS scenario and for a better overview without possible airports displayed, and our takeoff report for our departure from RWY 10 at New Orleans.
We left the gate a little later as scheduled and our first takeoff report was calculated for a departure from RWY 28 as the winds were favoring this runway, but as we finally pushed back at 22:02 UTC the wind had shifted and we had to use RWY 10. Ok, that has to include a longer taxi to the runway, but we should be good on the fuel. For some reason we had a higher ZFW than our flightplan told us,so we loaded about 20000 lbs more fuel, which isn't a problem at all and we should be fine for the flight. Our new ZFW was something around 351800 lbs. For takeoff we had to use flaps 20 and selected a FLEX temperature of 35° for thrust reduction.
After push back we taxied to the runway. In the background of the first picture you can see a TCA B757, still in old livery, landing on RWY 01.
Click on the pictures to enlarge them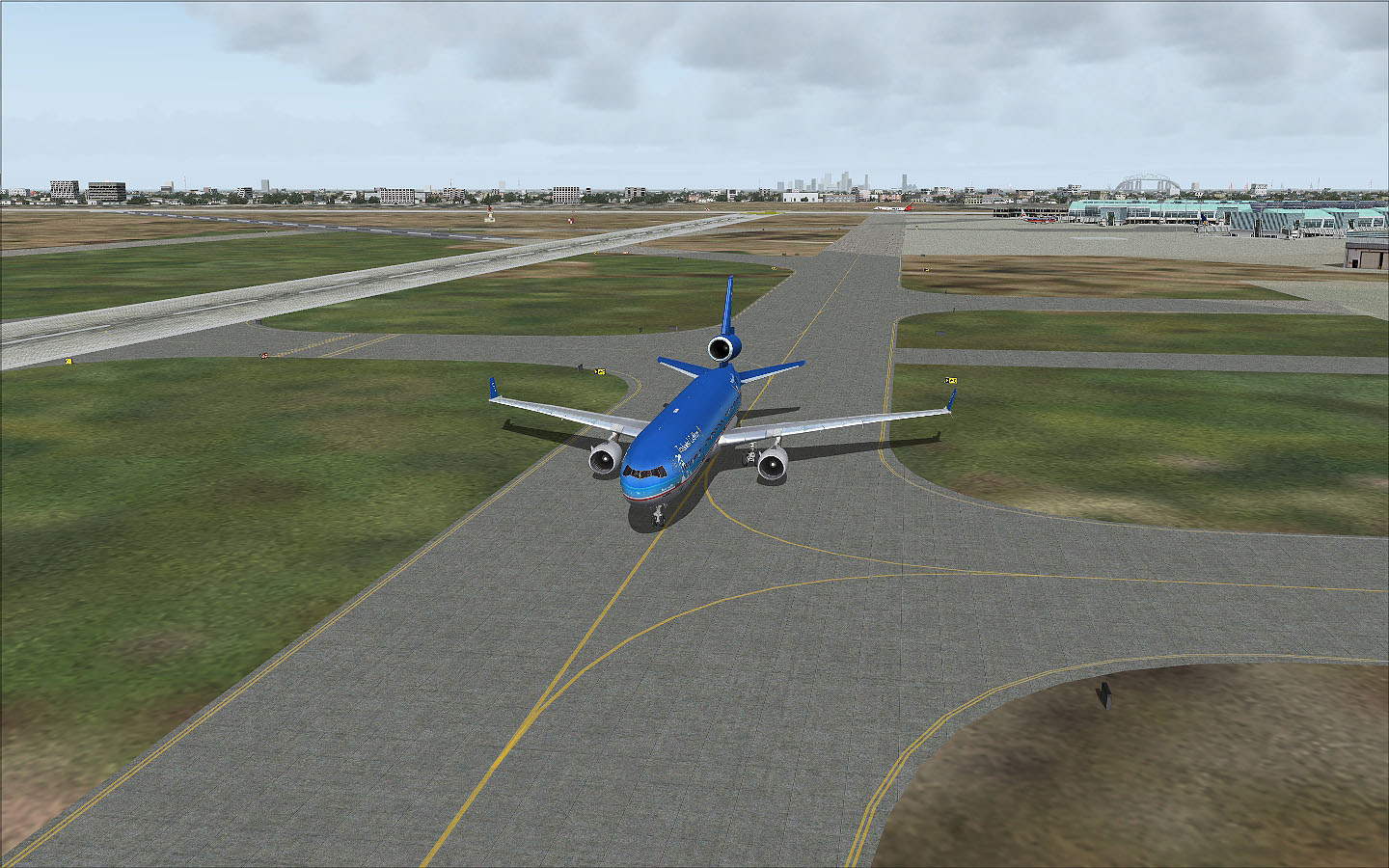 At 22:17 we received takeoff clearance and we lined up onto the runway.
At 22:18 we were airborne and shortly after takeoff we turned north inbound to Meridian (MEI) VOR.
The weather had improved a little bit, so we had a nice departure and climb out to FL330, which will be our initial cruise level.
During the first phase of the cruise flight we had really good tailwinds making for a good ground speed of 554 knots as you can see in the following picture.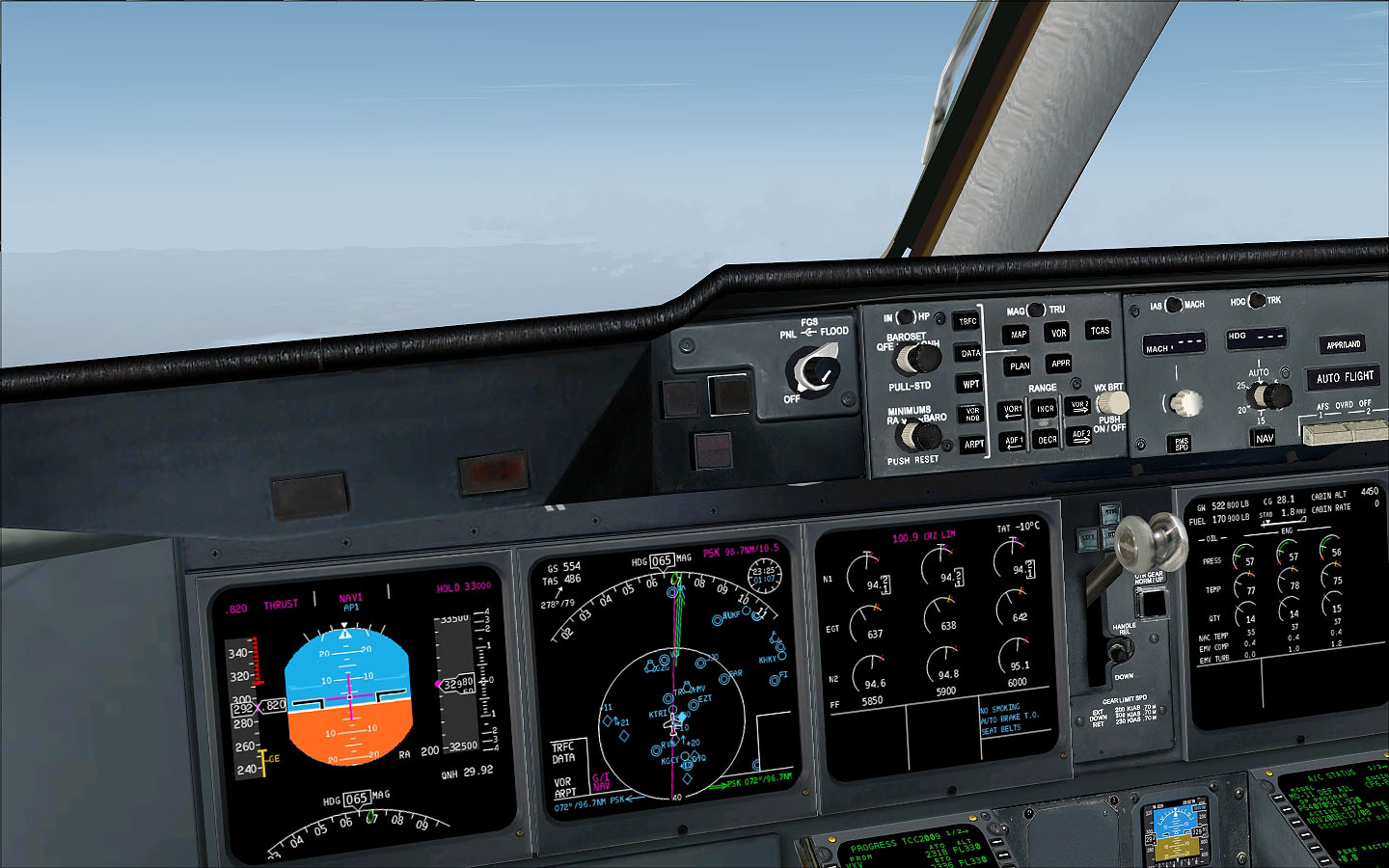 Then daylight started to fade away and it would take some time the see the sun on the 'other end' again.
This was also the time to serve dinner for us and of course for our passengers as well. Then the sun was gone and we could see a Continental aircraft (Flight 138 from KEWR to LFPG) flying along with us for a short term.
We are heading now to TUSKY intersection again with a good tailwind giving us a good ground speed again.
Over the Atlantic under Control of Gander Radio. It don't really gets dark in these days.
Soon we have to contact Shanwick Radio as we will pass 030° West (N 53° 00' W030° 00', or 5330N).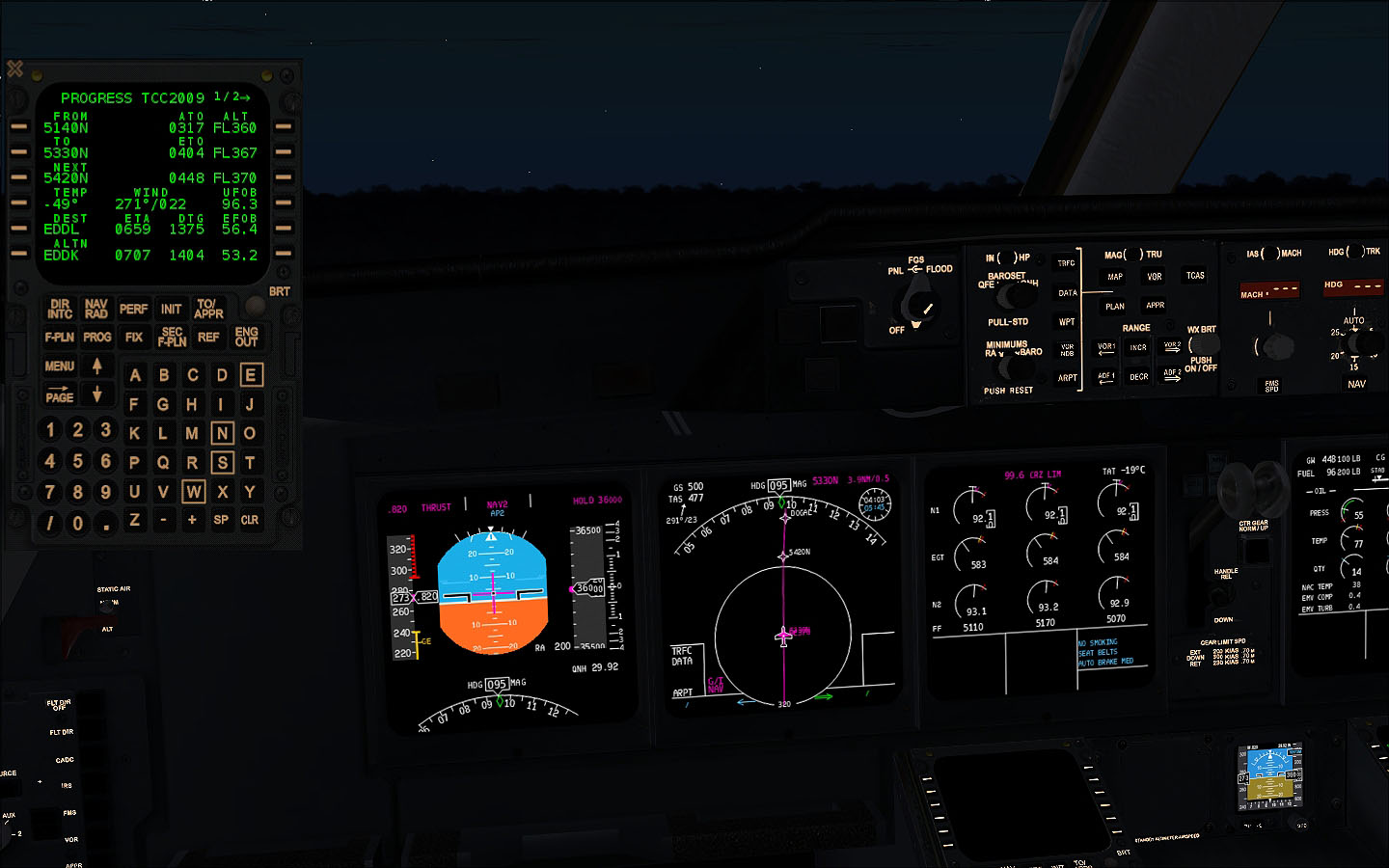 A closer look on the map.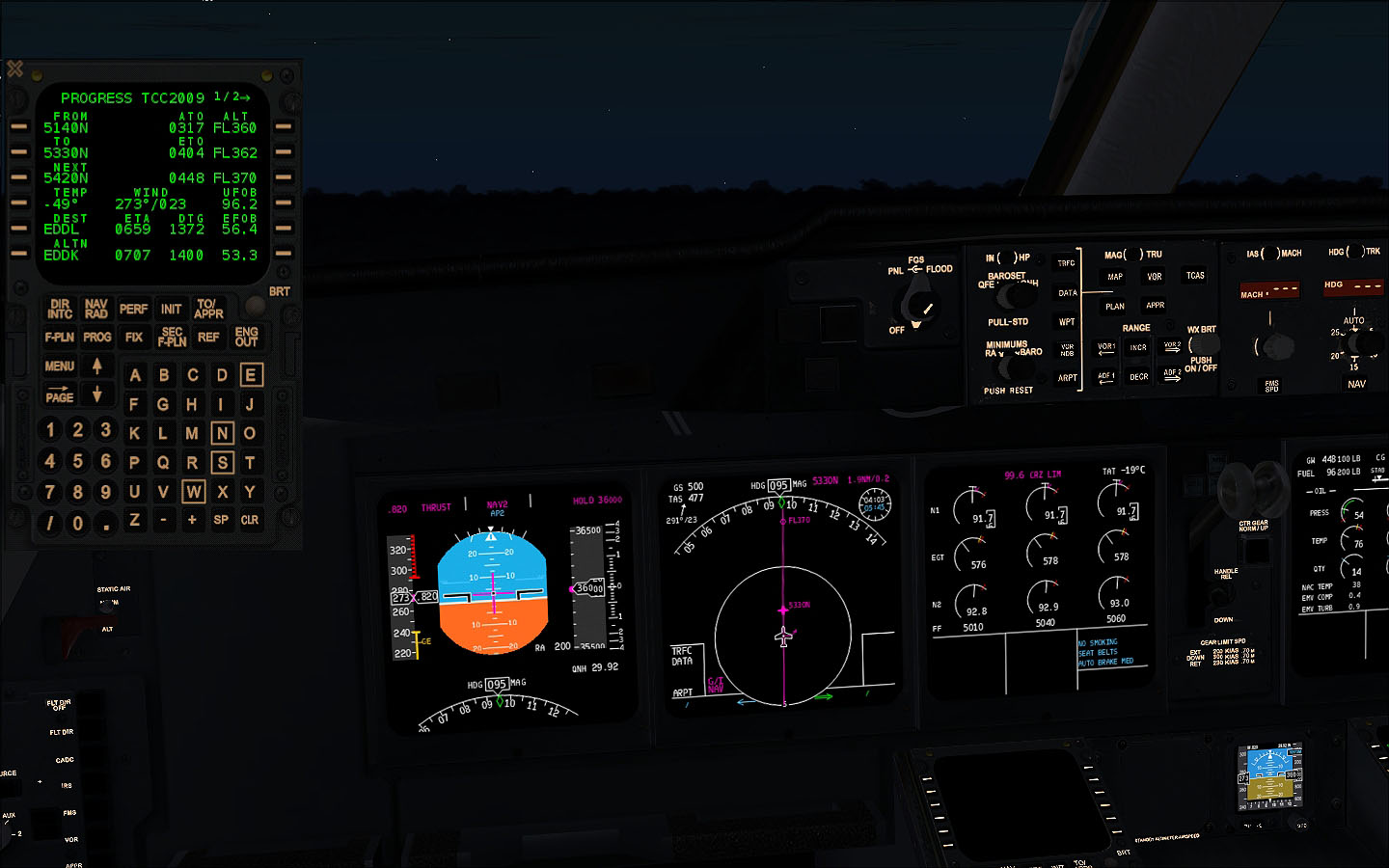 Soon another day will start for us with just some more thunderstorms around us..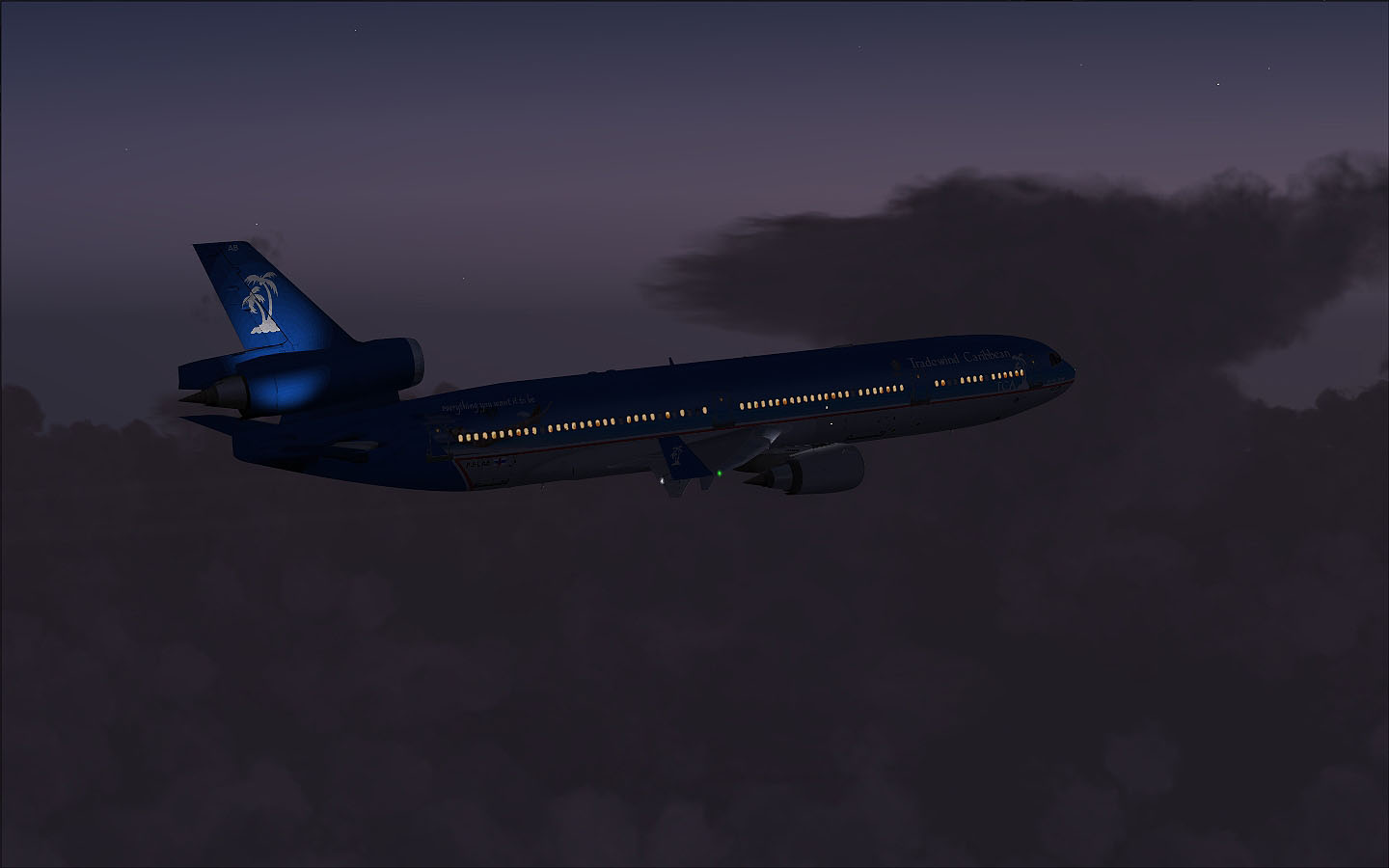 At 05:28 UTC and about 07:10 into the flight we could see Ireland in front of us.
At 06:03 we were passing Manchester, unfortunately the airport was partly covered by clouds, but the thunder-storms are now finally behind us and we could expect clear skies during approach to Düsseldorf. At least in real world the weather was like that. We will find out in less than an hour..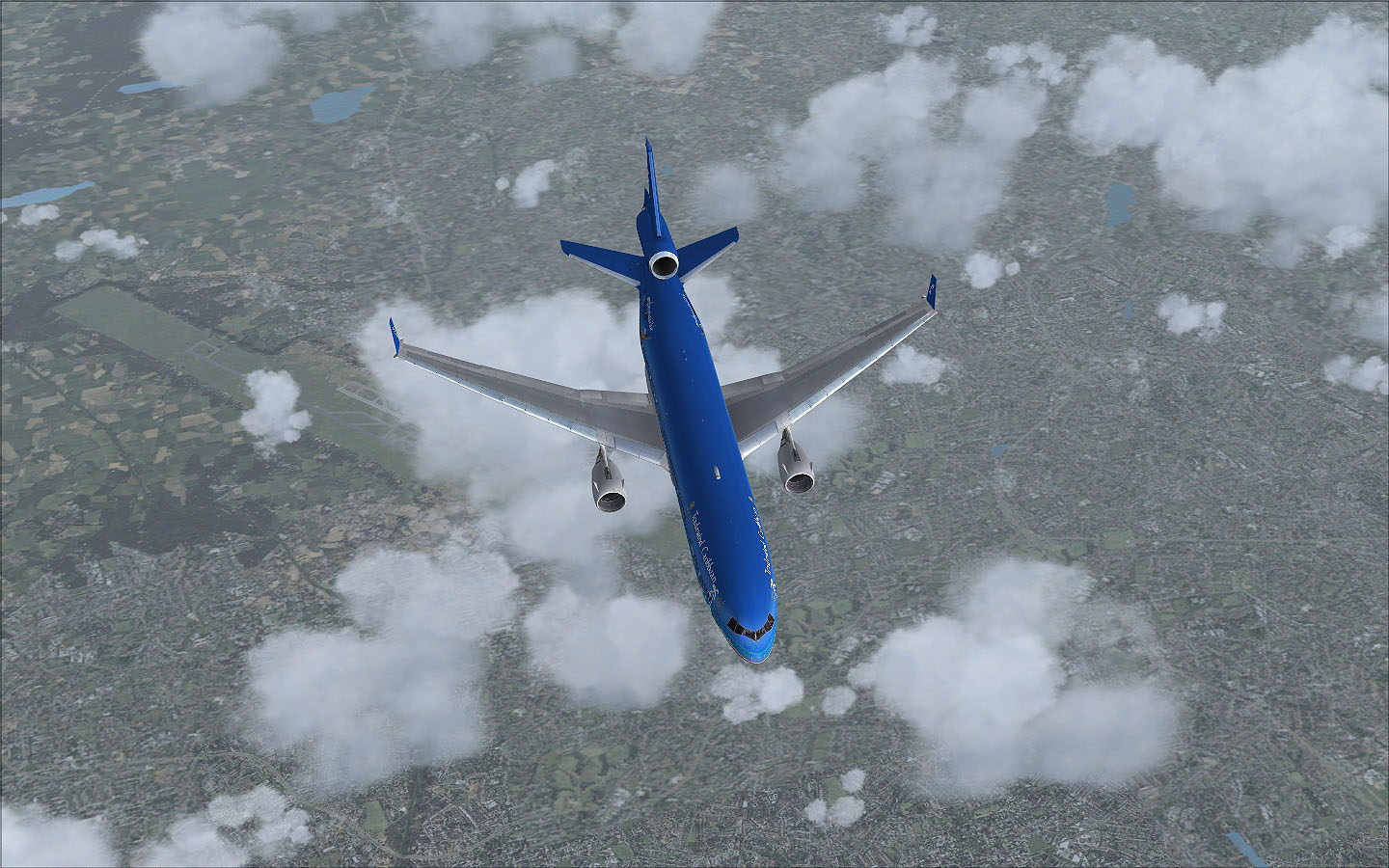 Now we are leaving Great Britain behind us and head towards the Netherlands.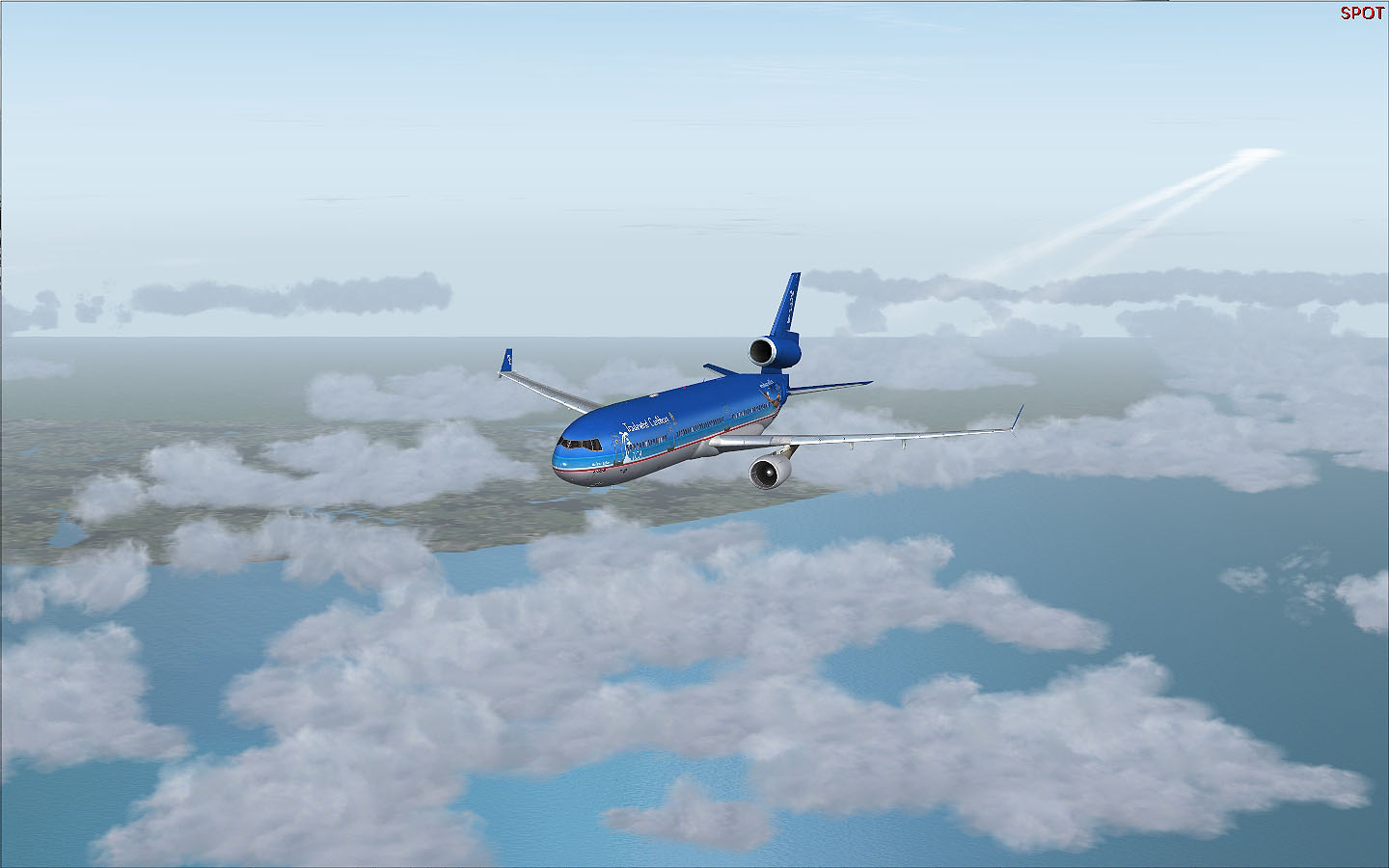 About 20 miles to Amsterdam Schiphol (EHAM) still at FL370 and we already have to prepare for our descend in less than 40 miles.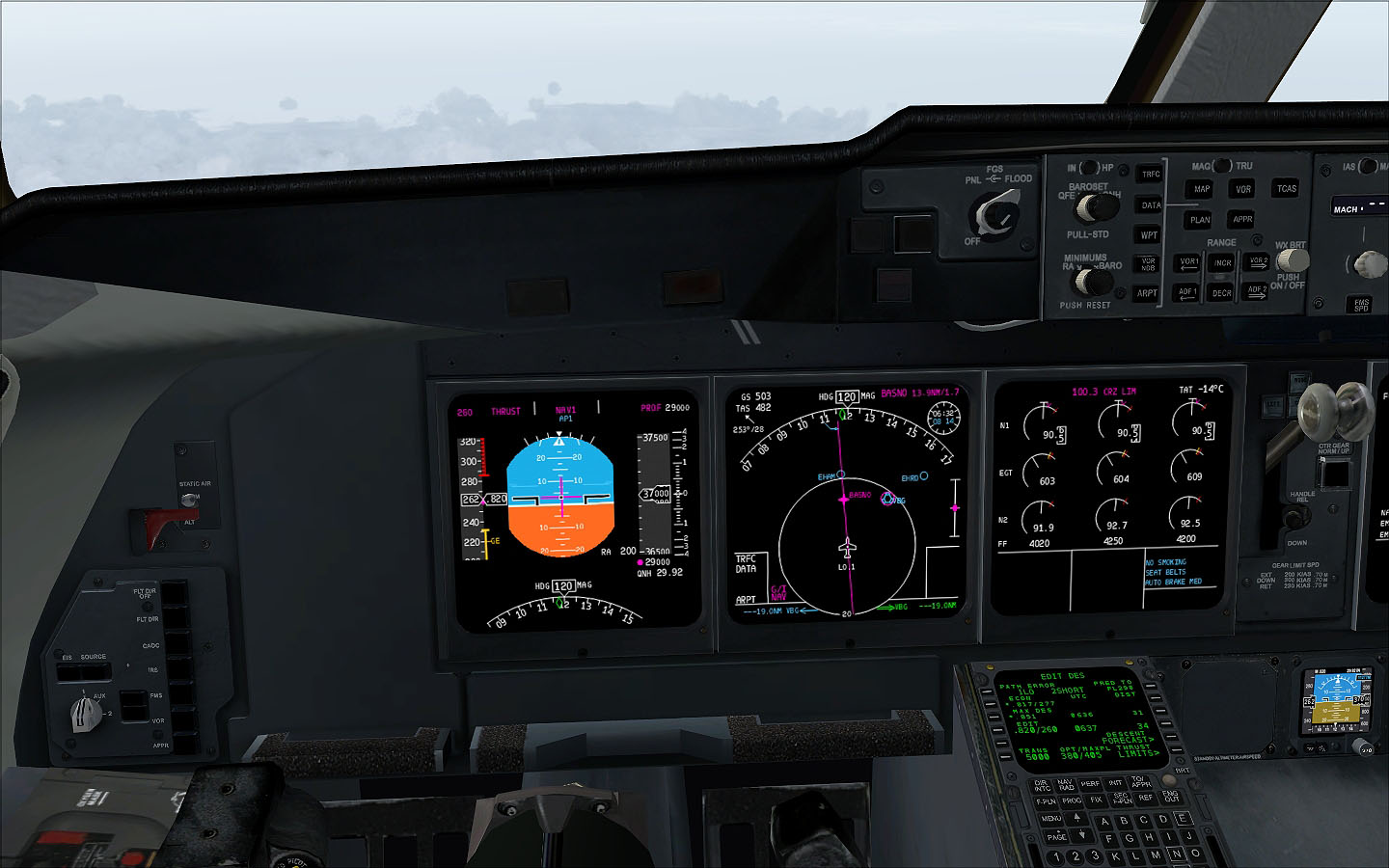 Overhead at Schiphol now.
We are now descending and are close to the German border already. Germany is already visible in the background. The river leading towards the clouds is the Rhine and divides into the two rivers Lek (below us) and Waal (above us). Left dividing from the Lek is the IJssel which leads to the IJsselmeer.
Now we are over Germany and crossing the A31 near Reken inbound for AGEDA intersection.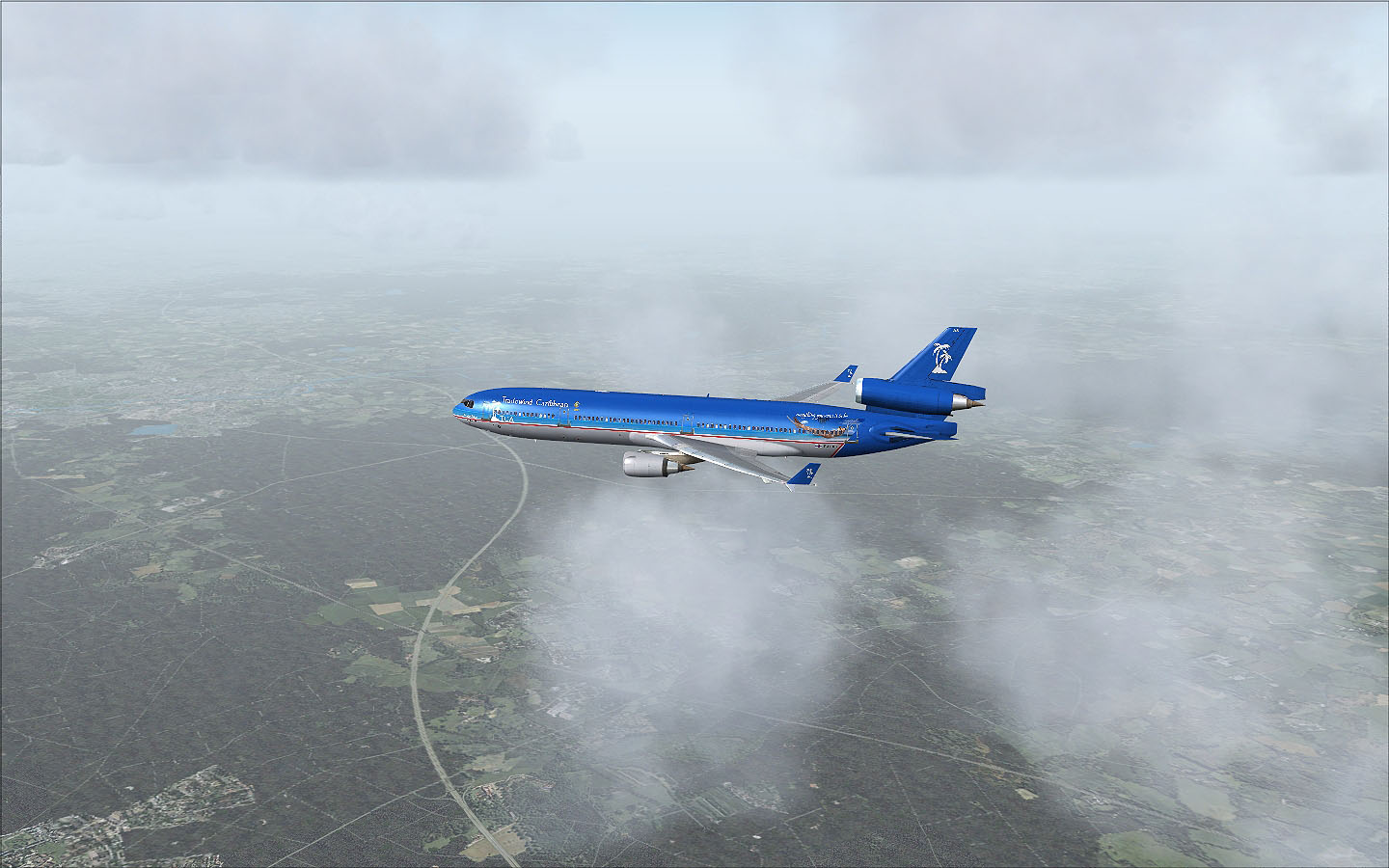 Passing XAMOD intersection north of Marl.
We are now inbound to BOT NDB near the city of Gladbeck-Hassel.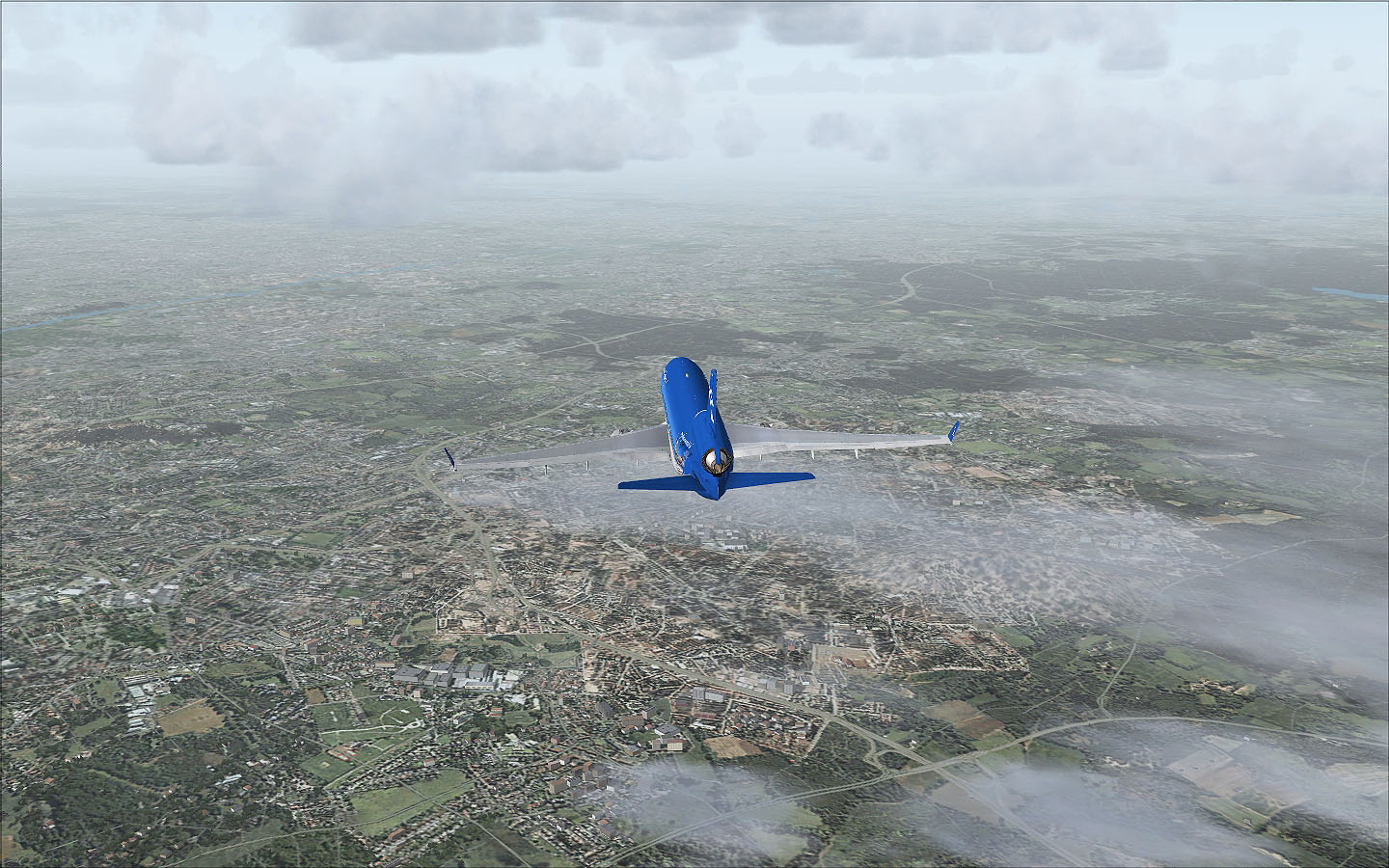 Ok, now over BOT we turn to 174° to intercept the localizer of RWY 23R.
Now we are about to intercept the localizer as we turn over the A40 near Essen.
Gear down (too early) as we are passing by at Essen-Mülheim (EDLE).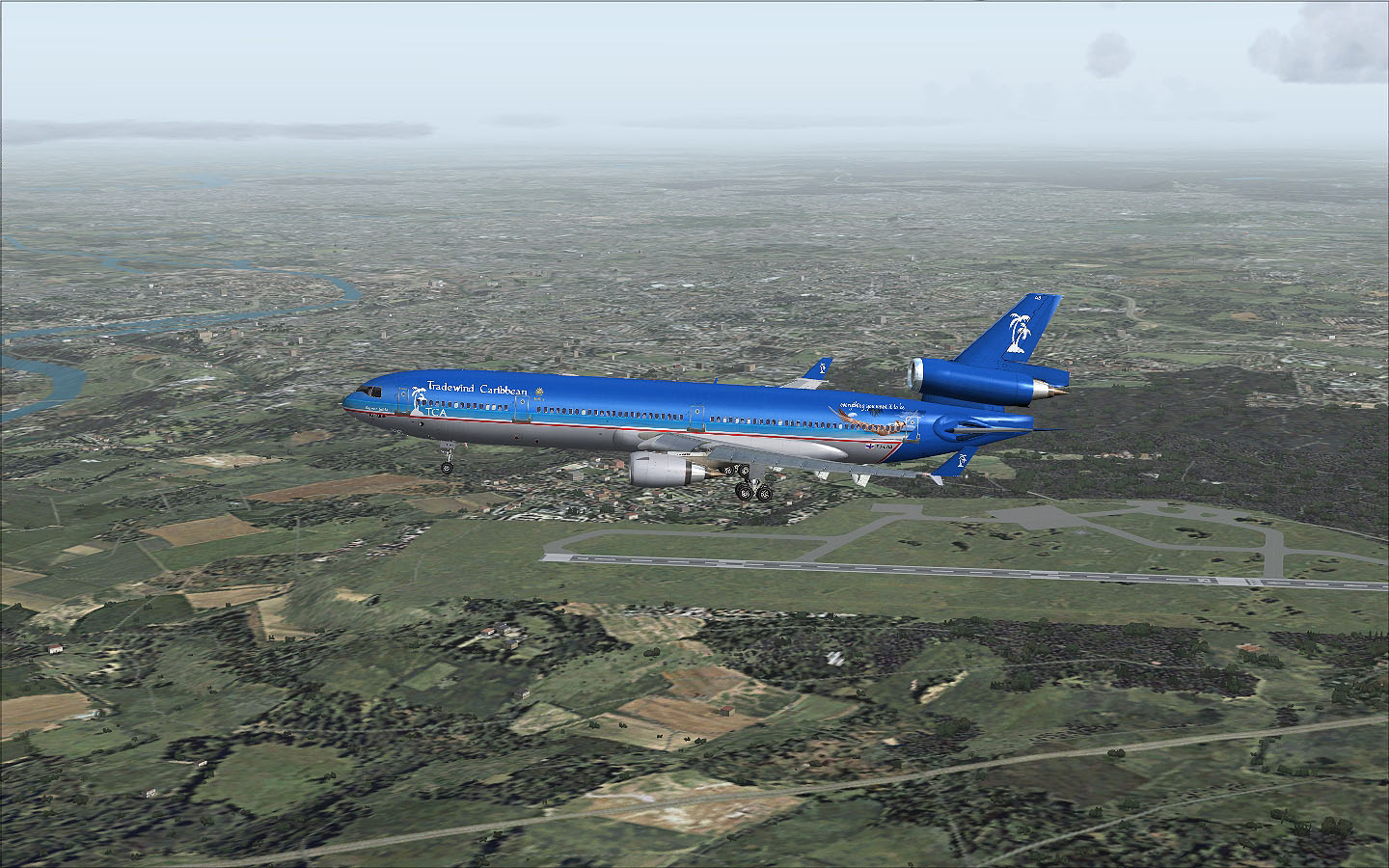 Long final to RWY 23R and soon we will fly over the Ruhr, which you can see below us.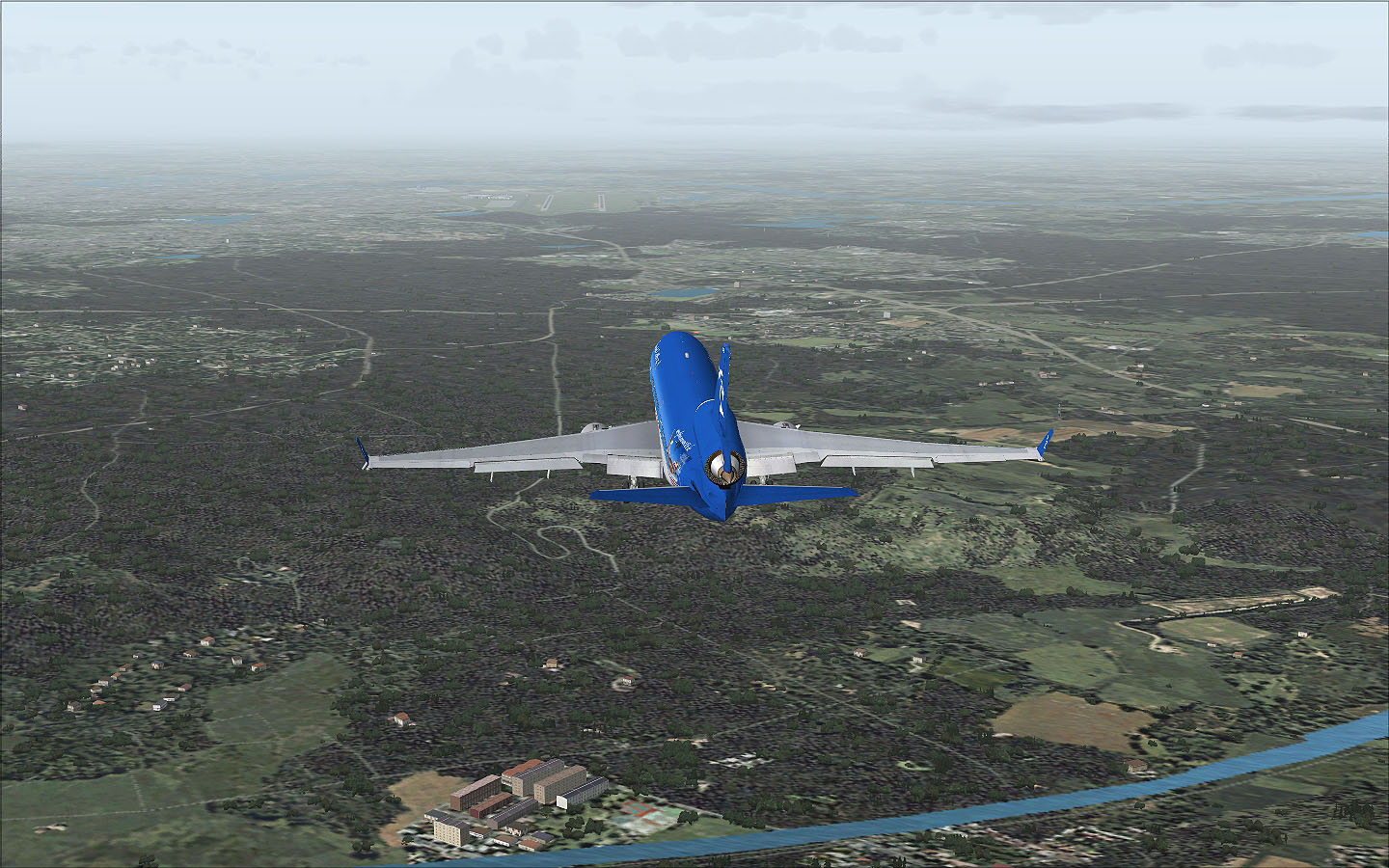 Short final and almost down. I planned on an autoland, but for some reason the autopilot was not tracking the localizer correctly, so I had to manually land it and it was a nice and smooth landing with a touch down rate of -167 ft/min. See the FS ACARS log for more details of the flight.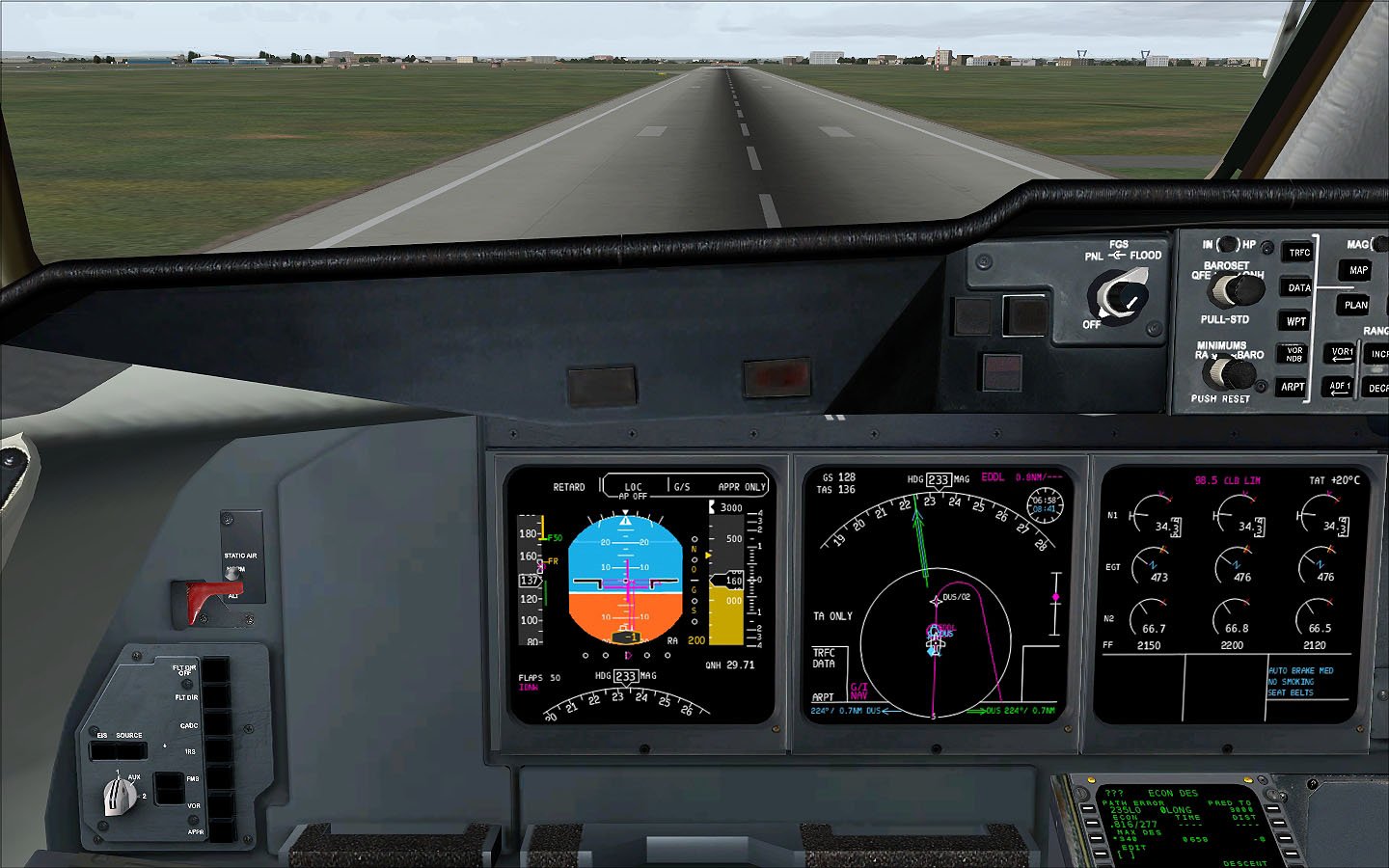 We left the runway at taxiway 'Bravo' and taxied to Terminal 'B'.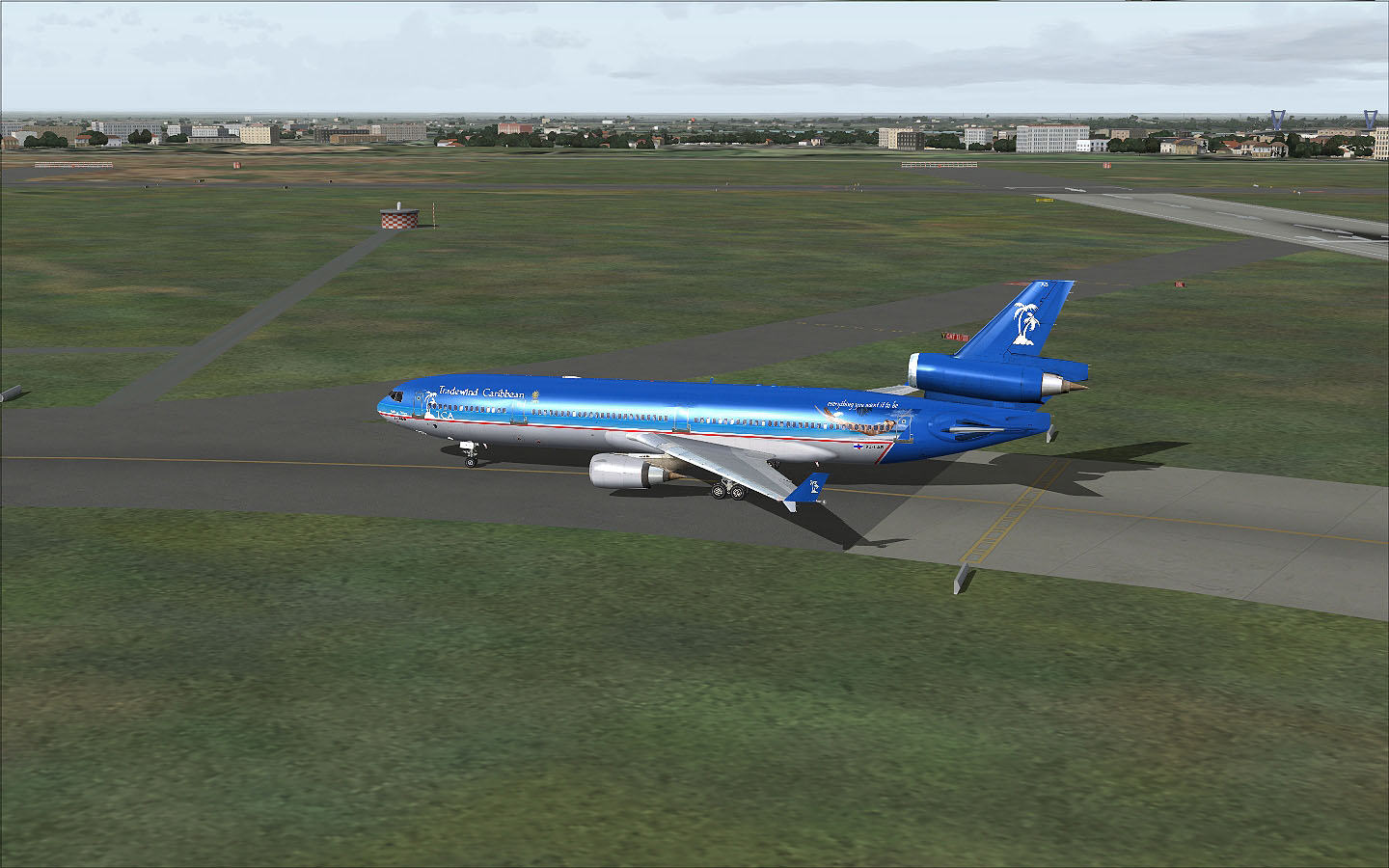 Leaving 'B' right onto 'M' and then directly left onto 'Q'...
...and left again to Gate 'B06'.
Straight in to the gate, two green lines and still some feet to go (a little bit right from the center of the picture you can see how far we will have to go until we have to stop our MD-11. And we hit it right on the spot.
Here we are now at 07:03 UTC after a flying time of 8:41 and a block to block time of 9:01 and almost complete match of our flightplan. We still had plenty of fuel in the tanks, but we had two alternate airports: Cologne-Bonn (EDDK) and Hahn (EDFH). And as you already might have noticed we have the thunderstorm season, so a holding might be likely.. And you might want to have another look at the original flightplan and compare the times..
Our passengers now can de-board the aircraft and their luggage will also be taken care of by the ground handlers.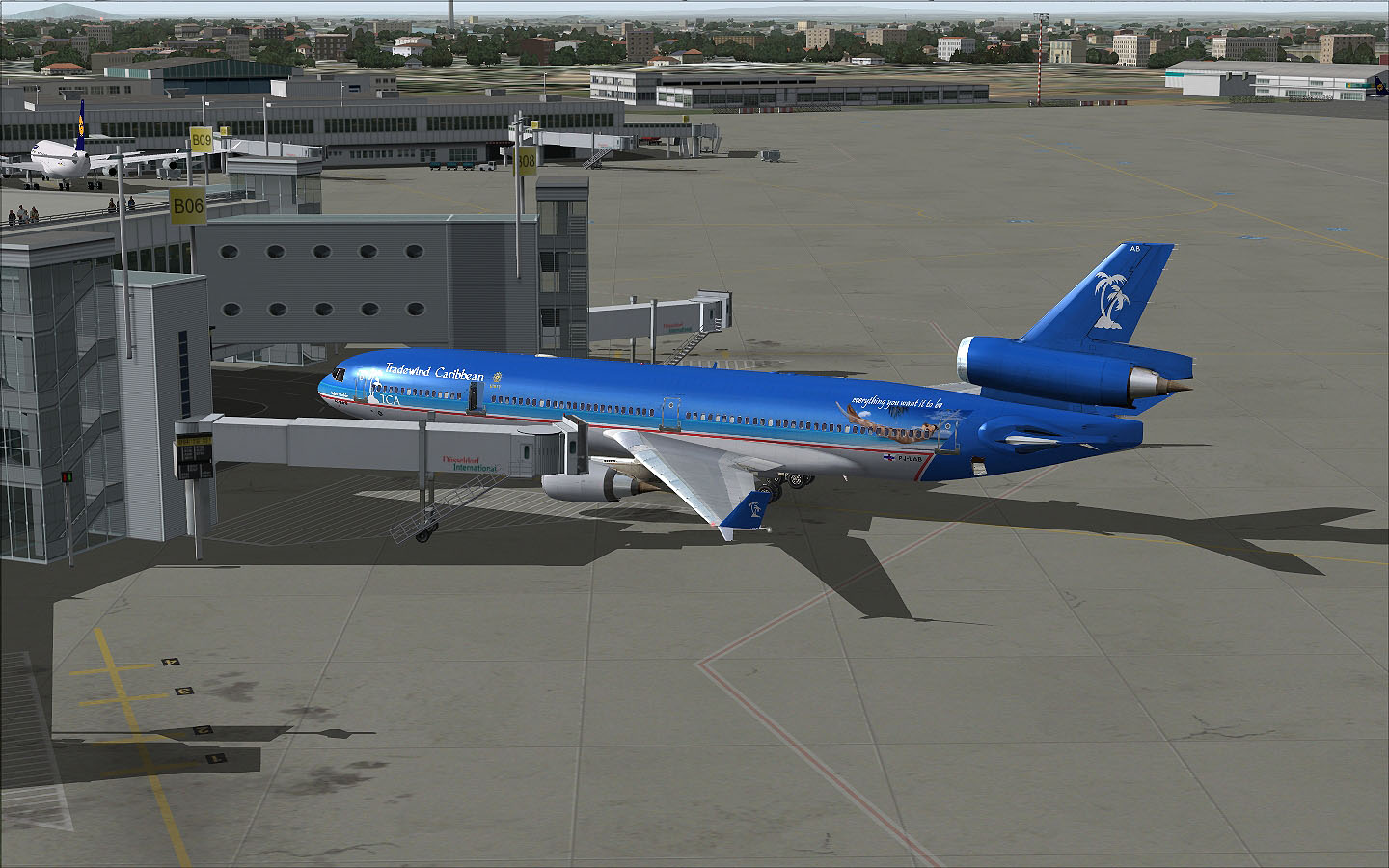 I hope you enjoyed this flight report and you can have a look at the route in Google Earth by downloading the file.
Now lets have a good time on the Nurburg-Ring and at the Phantasialand at Brühl as well, which seems to be part of the sightseeing tour for our passengers.
Maybe I will do another report on the flight back home...but I am not quite sure about it as it is a massive workload as you might imagine.
Have a good time and enjoy your flights.
Christian